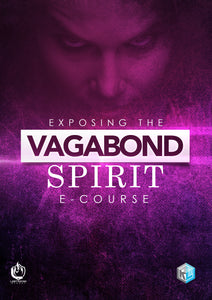 Exposing

 the 

Vagabond

 

Spirit
 will bring exposure to this 

spirit

 that is rooted in 
soul trauma and deception
. Causing 
unnecessary struggle
, people become convinced that their 
inability to commit
 and build healthy roots had been authorized by God. They flounder and stay 
trapped in cycles of lack and despair!
They mistake instability for spirituality.
They do not keep commitments.
They are quick to withdraw from commitments and shun responsibilities.
Expose the Vagabond Spirit today and take this Dynamic ecourse!
This ecourse includes 2 hours of Content in Video and Audio form, it also includes notes!